Cold Aisle Containment
Cold aisle containment solutions increase your cooling efficiency whilst reducing power consumption.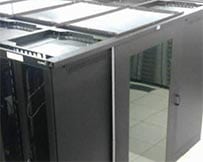 Australian Made
Product Information
Cold aisle containment is a method of increasing cooling efficiency, reducing power consumption and is intended to prevent air temperature zones from being mixed together in a data centre.
Cold air is fed through a false floor into a contained cold aisle. This air flows through the front of the server racks, removes the heat from installed equipment and is expelled as hot air through the rear of the cabinet. The hot air is then removed by the data centre air conditioning system.
Having the cold aisle contained means the area requiring cooling is much smaller and therefore less power is required by the C.R.A.C (computer room air conditioner) unit to keep it at the recommended temperature.
Cold aisle containment ensures businesses do not have to increase the cooling capacity within the data centre whilst increasing cooling efficiency and reducing costs.
Features
The main benefits of cold aisle containment are:
Avoids hot air short circuits
Reduces the volume of air that needs to be cooled
Improves efficiency of the cooling system considerably
Energy cost savings
Installing a cold aisle in a workplace improves the working environment for staff, as the room does not need to be kept at a low ambient temperature. Even the cold aisle can often be warmer than that of an uncontained data centre. An uncontained data centre needs to have it's air conditioning set for the installation that requires the most cooling, where ever that is within the data centre.
B&R Enclosures cold aisle containment systems are quoted on a project basis after an on-site consultation with one of our experienced sales engineers.
~