Air/Water Heat Exchangers
The BLU and BIT range of air-water heat exchangers cool electrical enclosures using a water source, making them ideal in dusty environments.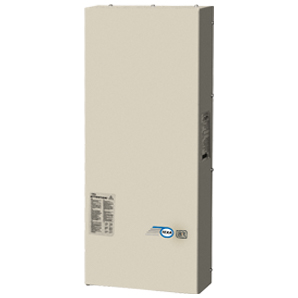 Product Information
Applications
The BLU range of wall mounted and the BIT range of roof mounted air-water heat exchangers have been designed to cool electrical enclosures using a chilled water source. This makes them ideal in dusty environments as no outside air is required for cooling.
They are quick and easy to install with simplified cutouts and a drilling template supplied with each unit. Once installed the enclosure can be rated to IP55, which prevents dust entering in sufficient quantities that may cause interference with the installed equipment, and prevents damage from low pressure jets of water.
Features
Cooling capacities from 1kW to 6kW.
Extremely low maintenance.
High IP55 protection rating maintains seal between heat
exchanger and enclosure.
Electromechanical thermostat, solenoid valve or level switch
is NOT included (sold separately)
Inclusions
All fixings required for assembly.
Construction
Manufactured from mild steel.
Powdercoated Light Grey RAL7035.
Order Guide
| Part Number | | Supply | Cooling Capacity | Enquiry |
| --- | --- | --- | --- | --- |
| Standard (RAL7035) | RAL7032 | | | |
| TX-BIT25BX0B | TX-BIT25BX0A | 230 | 2500 | Enquiry |
| TX-BLU10BX0B | TX-BLU10BX0A | 230 | 1000 | Enquiry |
| TX-BLU18BX0B | TX-BLU18BX0A | 230 | 1750 | Enquiry |
| TX-BLU25BX0B | TX-BLU25BX0A | 230 | 2500 | Enquiry |
| TX-BLU35BX0B | TX-BLU35BX0A | 230 | 3500 | Enquiry |
| TX-BLU45BX0B | TX-BLU45BX0A | 230 | 4500 | Enquiry |
| TX-BLU60BX0B | TX-BLU60BX0A | 230 | 6000 | Enquiry |
~