Data Cage
Data cages provide a method of segregating racks and equipment into defined zones, providing a high level of security for multiuser facilities.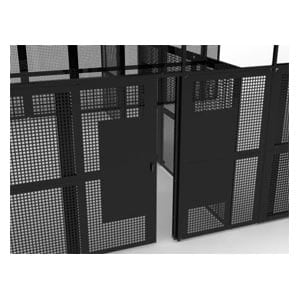 Australian Made
Product Information
With the ever increasing need to provide a secure method of housing equipment within a co-location data centre environment, B&R Enclosures can manufacture, supply and install data cages designed with the customer in mind.
Manufactured from 1.6mm thick zinc coated steel with powdercoated textured matt black surface finish, standard sized components are offered to achieve cage heights of 2400mm or 2700mm. Other standard inclusions consist of a sliding or hinged door fitted with a customer supplied locking mechanism. B&R's data cages can be tailored to suit the requirements of any data centre and are fixed top and bottom using a variety of fixings from TEK screws to explosive fastners to limit dust.
B&R Enclosures continually invest in innovative technologies and the development of their staff, with a team of data champions able to provide onsite consultancy, design and installation of the required cages. B&R will work with the customer to ensure a data cage is specified to maintain the high level of security needed within this environment.
Features:
1.6mm thick zinc coated steel panels
50 x 50mm RHS supports
Aluminium door section for weight saving
Large open mesh pattern to maximum airflow and visibility
Sliding or hinged doors
Customer supplied locking mechanism
On-site consultation and installation
For more information on data cages please contact your local sales engineer or send us an enquiry.
~