B&R Continues The Pledge to Ex-Service Personnel
B&R Enclosures is proud to announce that we have renewed our Pledge to support greater access to employment opportunities for ex-service personnel, in recognition of those who have served Australia in a national security capacity.
We recently had the pleasure of being presented with our Pledge certificate by John Hardgrave, National Pathways Manager. We also took the opportunity to show him some of the products we have designed, engineered and manufactured recently for Defence force projects.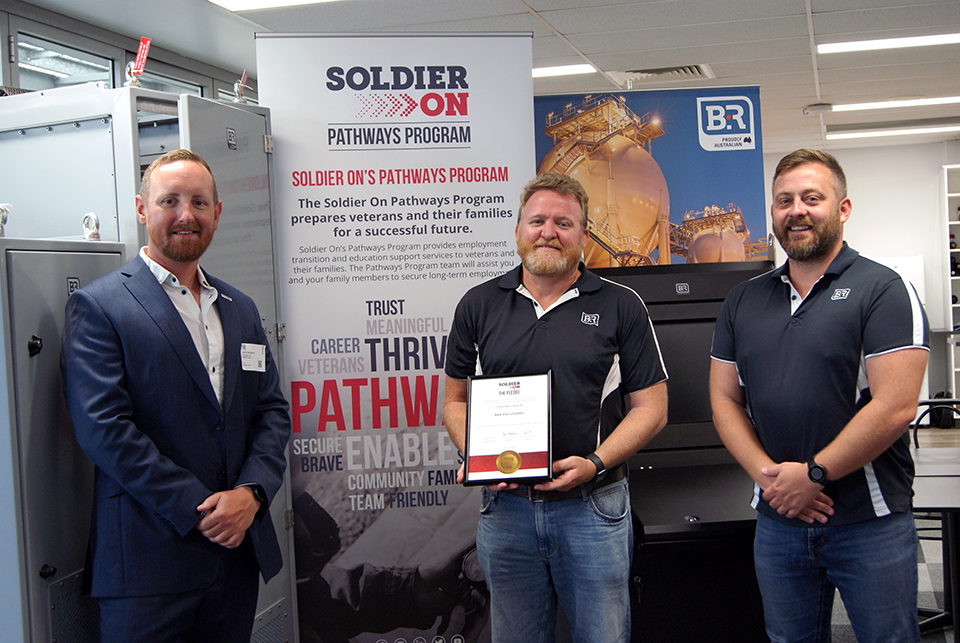 L to R: John Hardgrave - National Pathways Manager, Soldier On, Ben Bridges - Group Sales & Marketing Manager, B&R Enclosures, Julian Spencer - National Business Development Manager Defence, B&R Enclosures.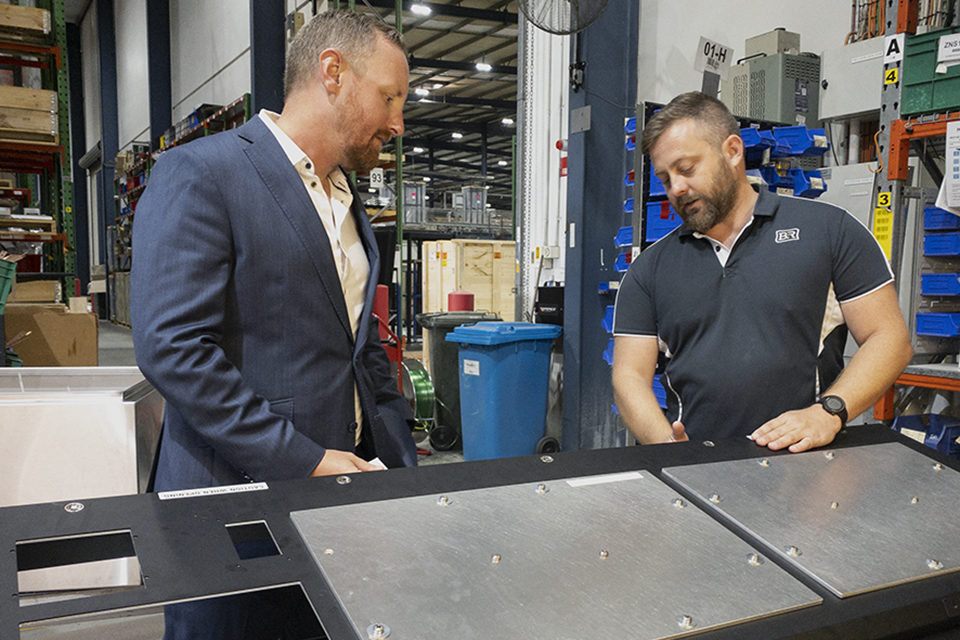 John was shown a few products which have been designed, engineered and manufactured by
B&R Enclosures for use by the Australian Defence Force.
Established in 2012, Soldier On is a not-for-profit veteran support organisation delivering a range of early intervention services to veterans and their families in multiple locations across Australia. Soldier On provides a holistic model of support, focusing on Health and wellbeing, Employment Support, Learning and Education programs and Participation and Social Connection. Whether Australian veterans or their family members need to access services in one or all four areas, Soldier On are there to HELP them connect with others and enable them to thrive through tailored programs.
The Pathways Program team at Soldier On provide support and advocacy for candidates that are Soldier On participants as part of existing recruitment processes within Australian companies and organisations.
The Pledge is a way in which corporate Australia can show their commitment to enabling veterans and their families to thrive, by providing support and employment opportunities, in collaboration with the Soldier On Pathways Program by recognising the skills, leadership and training of those who have served. Companies who sign the Pledge commit to learning more about the skills and attributes which ex-service personnel and their family members can bring to and benefit an organisation.
The Pledge and Pathways Program form a channel by which ex-service personnel and their families can identify supportive organisations and allow Australian businesses to work to recruit candidates with skills and abilities learnt during their time in the Defence force.
B&R Enclosures will post any job vacancies on the Soldier On job board allowing for greater visibility of opportunities to ex-service personnel and their families.
B&R would like to encourage other Australian businesses to make this pledge with us. Visit https://soldieron.org.au/ for more information. Visit our careers portal to learn more about working at B&R.